Saturday, Nov. 21 2020 @ 5:00 - 6:30 PM PST
Recording available here
In this class, you will learn how to cook a homemade Kyoto meal with Chef Aya Igano (/eatkyoto). Aya loves teaching authentic Japanese cooking, and has a very popular ramen making class that she teaches at Eat Kyoto in the historic Gion district. For your class, she has prepared a special menu that brings together Kyoto favorites. You will be making 3 dishes and learning some very fun and unique techniques along the way: Cucumber Salad, Miso Udon with handmade noodles the traditional way (using your feet!), and Ginger Chicken. Your box includes special ingredients you'll cook with, printed recipe cards, and a shopping list for fresh ingredients.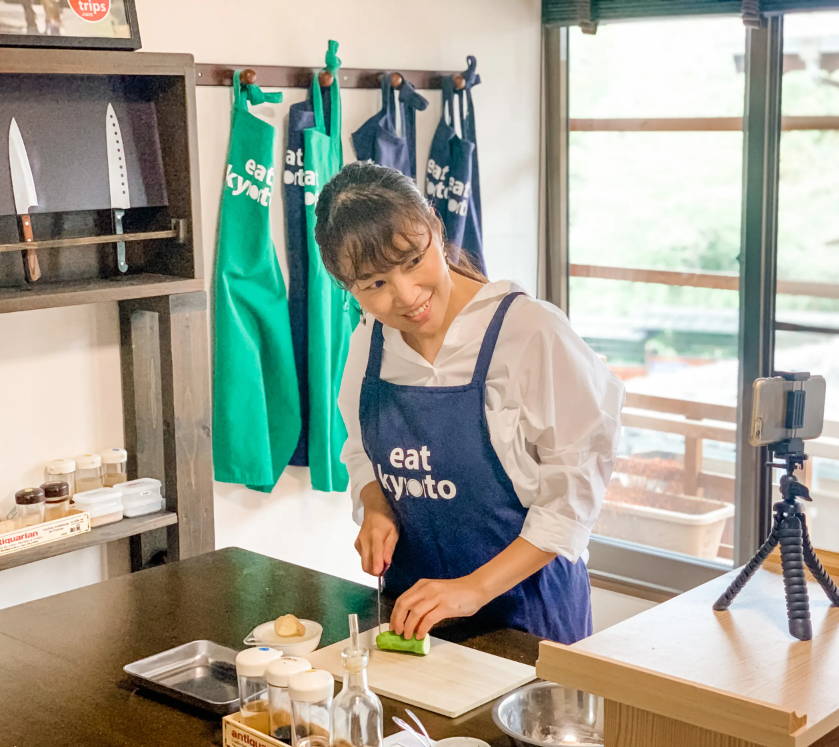 Meet your Chef: Aya Igano
Aya's friend started a cooking school called 'Eat Osaka' which taught Udon, Yakitori and Okonomiyaki to tourists. Aya had so much fun that she ended up staying for 7 years. During her time there she was asked often how to make ramen. That's when she decided to go to ramen school and learn the way of ramen. Afterwards, she started 'Eat Kyoto' and has been teaching ramen and traditional Japanese cooking for the last 2 years.
---
"My cooking style is easy and tasty! When you take my class, my goal is to teach you things you can easily recreate at home and enjoy with friends & family."
---
This is a typical dish you'll find served as an appetizer in Kyoto. We love how crunchy and refreshing each bite is along with the delicate umami notes.
The flavor of this chicken is out of this world. After a quick marinade, the fun part is getting to shake the chicken in a bag to coat it with flour before baking them with a few drops of sesame oil.
Nabeyaki Miso Udon is a soup made with thick chewy udon noodles, vegetables, and a rich miso broth. Udon is very popular in Kyoto, and this is a perfect Fall dish!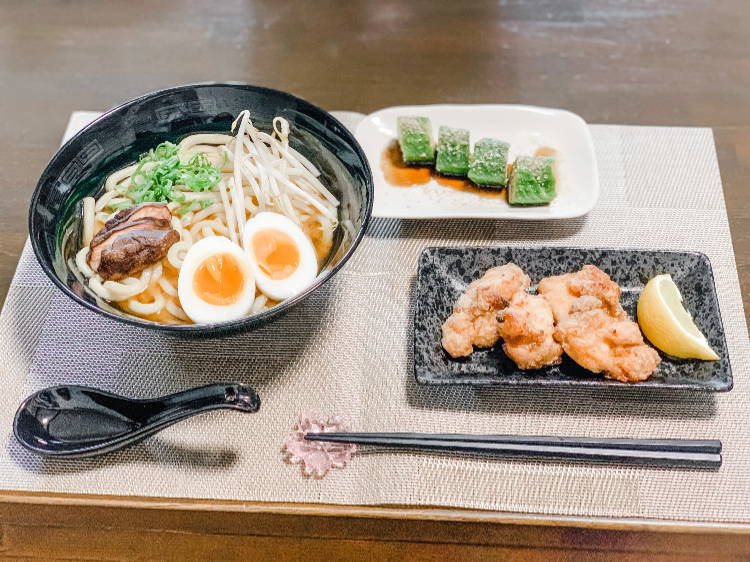 What you'll need for your class
You will be using the following ingredients in your Kyoto cooking class:

Haku Smoked Shoyu (soy sauce)  
This is a rare and unique small-batch shoyu from Kyoto. It has a rich umami and complex flavor that is unlike any other soy sauce.
Namikura Sesame Miso 


This miso paste is spectacular! The saltiness of fermented soybeans is blended with the nutty flavor of black and white sesame seeds...Yum!

Kadoya Sesame Oil


Kadoya is the secret weapon in our kitchens. Just a few drops can impart a wonderful intense toasty and smoky sesame flavor.

Chopsticks


You'll use these to do a special cut for the cucumber salad.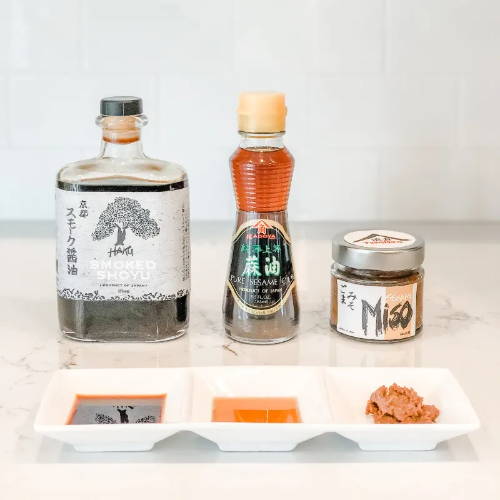 Here's a list of ingredients and tools you'll need for your cooking class.
Shopping list of fresh ingredients and pantry items  

2 large pots: 1 for the udon soup and 1 for boiling the udon

Stainless steel bowl for tossing the cucumber salad

Sheet pan for the chicken
Whisk

3 1-gallon ziplock bags
See below for a few tips on how to get the most out of your live class.


Read through the recipes ahead of time to familiarize yourself with the steps

Pre-measure your ingredients

Gather the tools you'll need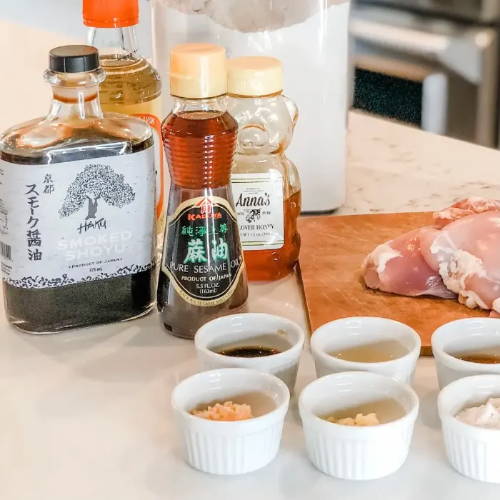 Drinks to pair with this meal
Sake
Sake is one of Japan's most iconic drinks. In fact, it is so pervasive in Japanese culture that the word for alcohol in Japan is simply "sake." The strongest and roughest sake is called 'Koshu'. We'd steer clear of this one if you're looking for something easier to start out with. We'd recommend trying a 'Junmai' as a good beginner sake. These sakes are usually smoother and sweeter.
Japanese Beer
Japanese beers are known throughout the world for their quality and great taste. Beer has been made in Japan since the 19th century, with four major beer producers (Asahi, Kirin, Sapporo and Suntory) dominating the local market and there are over 400 craft breweries operating in Japan.
We hope you have a great class with Aya and a wonderful dinner! We'd love to see photos from your kitchen and your final dishes! Tag @hellotrove and #hellotrove.
Join the TROVE Facebook group to interact with fellow travelers, see what others have made, and get more tips and recipes from Aya.