While we'd love to show you around in person, we thought we'd try for the next best thing with this virtual tour of some of our favorite spots and the must-see landmarks in Florence. Get that Bellini ready or grab a cappuccino, and let's go!
Beat the crowds at The Galleria dell'Accademia
We'll start the tour with probably what Florence is most famous for: Michelangelo's Masterpieces. We've arrived early and avoided the lines at The Galleria dell'Accademia, and even in person, Prisoners (or Slaves), St. Matthew and, the statue of David somehow feel larger than life. Use your mouse to drag and scroll around the video screen in this short overview from Walks of Italy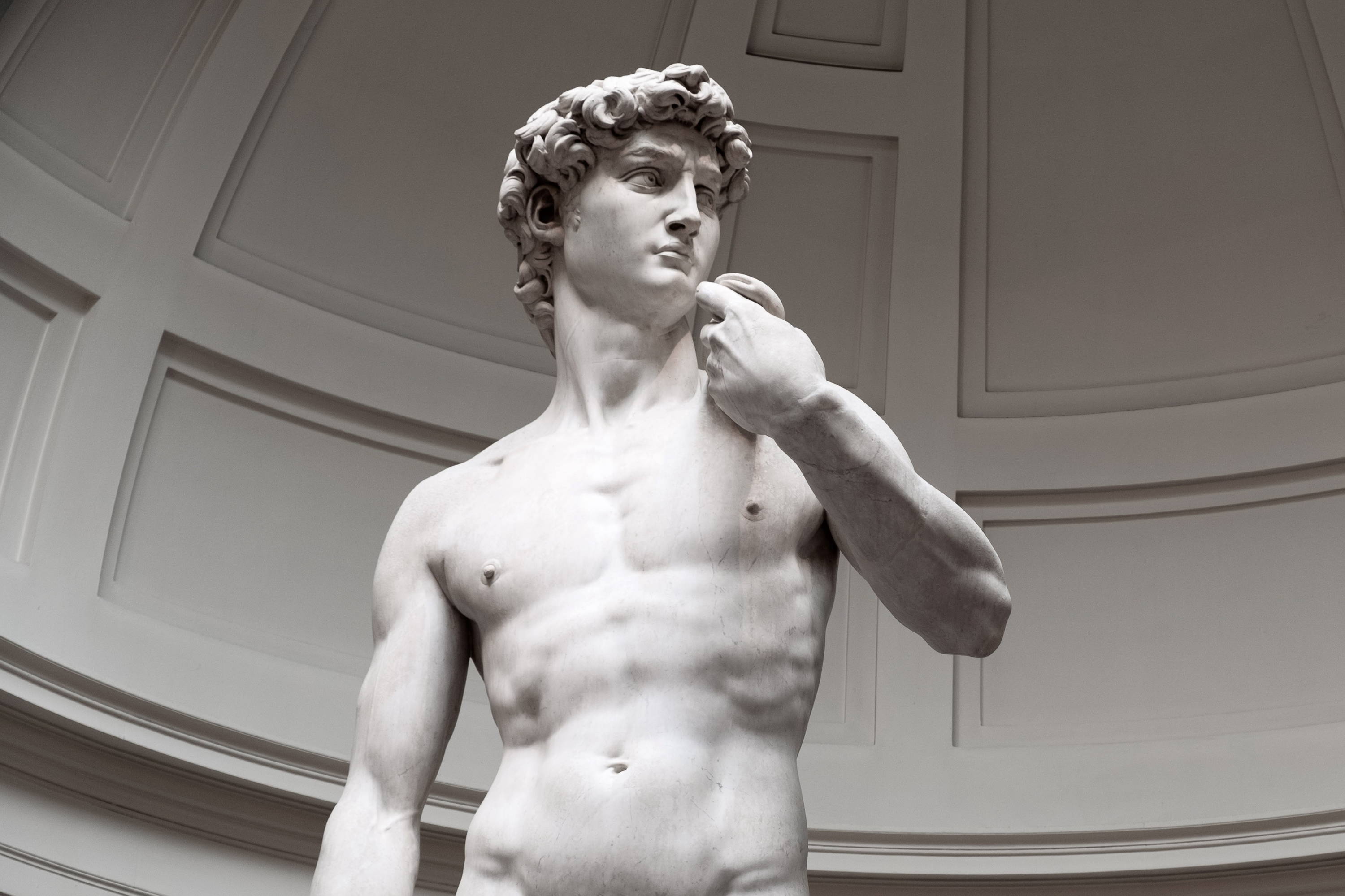 Continue on to the Duomo, Florence's most iconic landmark 
The Cathedral of Santa Maria del Fiore (Tip: Hold your cursor down, and drag it left and right for 360° views), also known as il Duomo, serves as the city's symbol and it is the most recognizable building in Florence. The Duomo is so stunning, it will even wow you on your computer screen. You can also virtually check out the inside. Fun fact: Filippo Brunelleschi who designed and built the domed rooftop of the Duomo had no formal training as an architect or engineer. Isn't that crazy?! Look up at Giotto's Campanile, a masterpiece of Gothic architecture. This bell tower stands almost 278 feet high, and you climb over 400 steps to get to the top.  
People-watch at the Piazza della Signoria 
The Piazza della Signoria is an L-shaped square located halfway between the Duomo and the River Arno. Here, you'll find several iconic Florence attractions: Palazzo Vecchio, the Neptune Fountain, the Uffizi Gallery, the Loggia dei Lanzi, and copies of statues by Michelangelo and Donatello. Even if you don't have time to visit each of these, it's worth visiting just to admire the open-air sculpture gallery called the Loggia dei Lanzi, snap photos of Palazzo Vecchio (city hall)….and people-watch!
Grab a sandwich at All'antico Vinaio  
Ask any local or tourist, and they will say if you haven't been to All'Antico Vinaio, you haven't been to Florence. Just minutes away from the Piazza della Signoria, this family-run shop always has a line spilling out its door. They use a local Florentine flat bread called schiacciata, and then pile on cold cuts, cheese, homemade creams (e.g. truffle cream!), and other toppings. For first-timers, we recommend La Favolosa, the first sandwich they put on their menu, which is packed with sbriciolona (the typical Florenine salami), pecorinio cheese cream, artichoke cream and slightly spicy eggplants. It's heavenly. Check out this video by Food Insider to learn more…we dare you to not drool.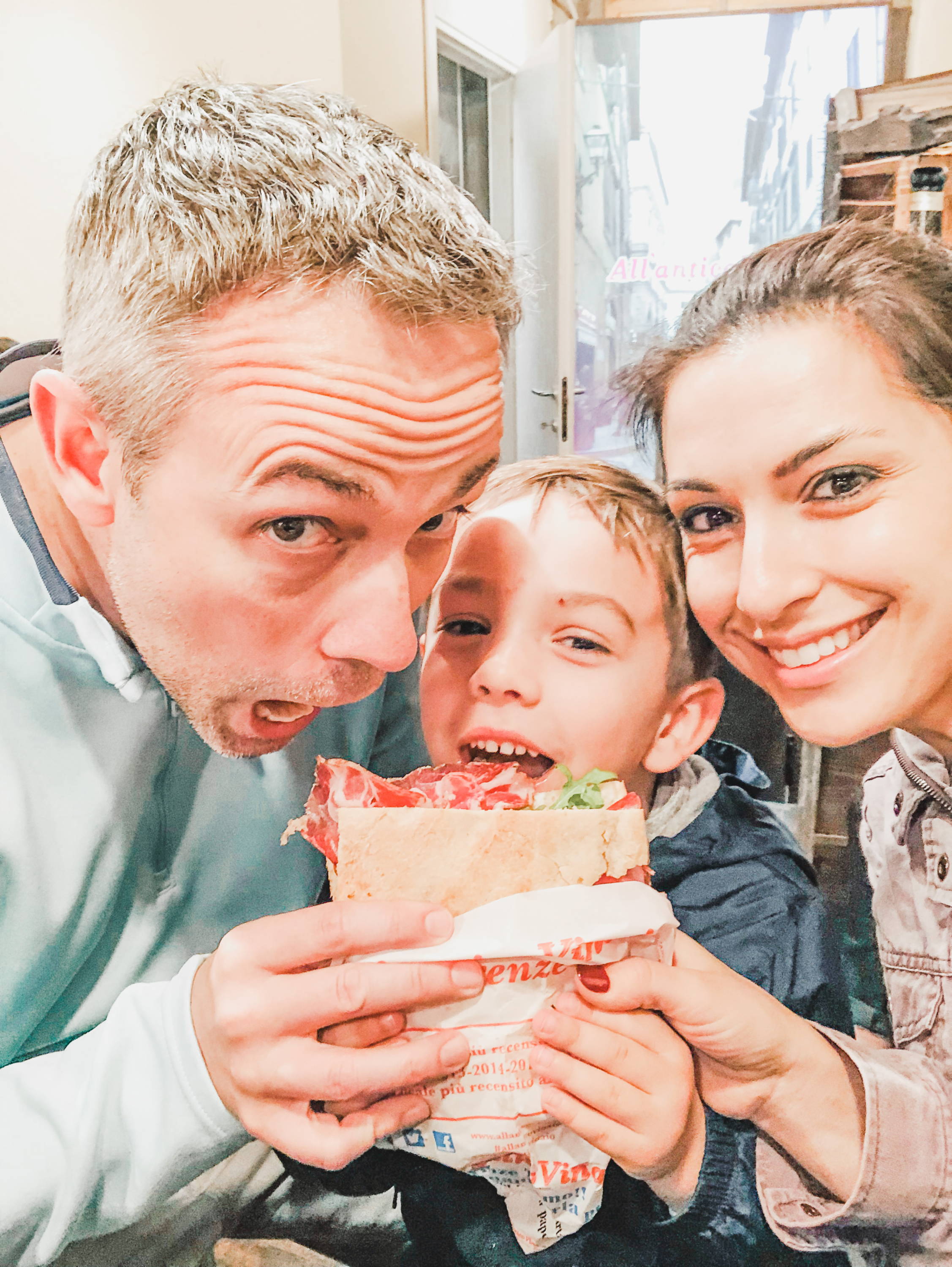 Need a sweet treat? Grab gelato at Gelateria de Neri 
With Italy being the birthplace of gelato, we pretty much ate gelato every day when we were in Florence. Okay, yes sometimes twice and three times a day! Gelateria de Neri is our favorite hands-down. Here is where you'll find classics like pistachio, coffee, and caramel, but you'll also find unique taste profiles like rice, cassata, and Mexican chocolate. There will likely be a line out the door, but it moves fast and is so worth it!
Snap a photo of Ponte Vecchio  
Ponte Vecchio is one of the most famous landmarks in Florence. Built in 1345, it was the first bridge over the Arno River and was used as a system of defense (watch this video for a 60 second history lesson). We recommend crossing over the Arno River on the Ponte Vecchio bridge, while checking out the many jewelers, antique boutiques and art shops. Then, on your way back, crossing over the Ponte alle Grazie bridge to get the famous postcard-like view of the bridge.
Take a stroll through Boboli Gardens 
After you've crossed the Arno River, you'll find the beautiful Boboli Gardens (Tip: Hold your cursor down, and drag it left and right for 360° views). Directly behind Pitti Palace, this is one of the first and most important examples of the sculptures and "green architecture" of an Italian Garden, which inspired many European Royal Gardens.
Sip an aperol spritz as you take in the sunset at Vip's Bar 
Vip's Bar (Tip: Hold your cursor down, and drag it left and right for 360° views) is located just off the Piazza Michelangelo, and is one of our favorite spots to rest the feet after a day of exploring while you sip on an aperol spritz (in Italy, they just say "spritz," because what else would you be talking to…this is THE drink!). From here, you can overlook all of Florence as its blue sky turns to dreamy hues of pinks and purples.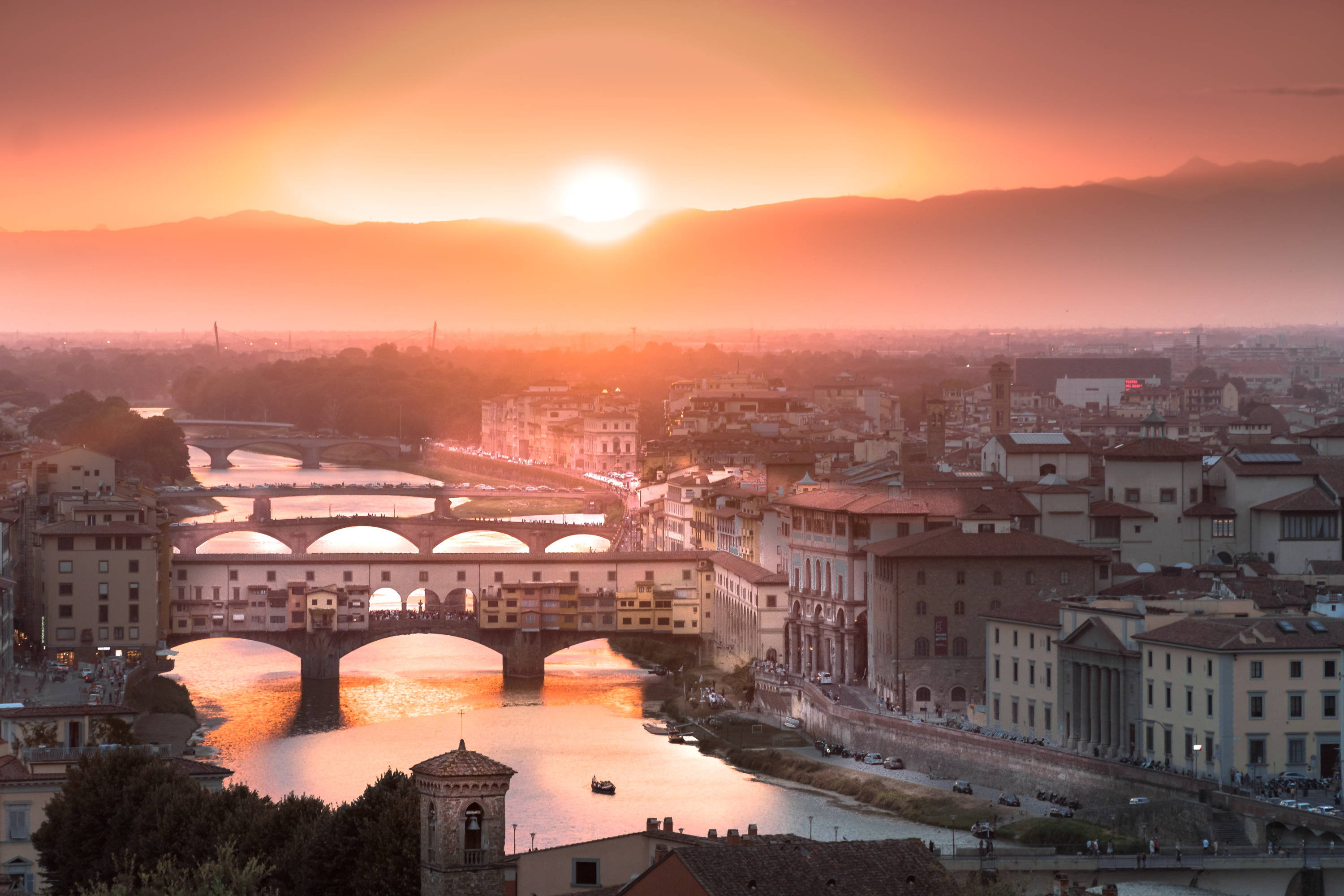 Enjoy homemade pasta and a stellar wine selection at Zeb Gastronomia  
This Michelin Guide restaurant down the hill from Vip's Bar is run by a mother-daughter duo who bring you seasonal Italian cuisine.  Zeb Gastronomia was one of our favorite meals of our trip, and is a perfect way to end your day of sight-seeing. We love the modern yet intimate, 16-person restaurant (reservations recommended) and they walk you through the menu that day of fresh pastas, meat, fish, and desserts, and help pair wines for each dish. Situated on the cutest street filled with restaurants and small artisan shops, Zeb is worth the stop.